Seminar:
Empire, Rebellion, and the Politics of Surf Tourism
Prof. Scott Laderman
Professor of History, University of Minnesota, Duluth
Fulbright Visiting Professor, HKU
2 March 2016 (Wednesday)
4:30pm - 6:00pm
Room 4.36, Run Run Shaw Tower, Centennial Campus, HKU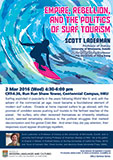 Abstract:
Surfing exploded in popularity in the years following World War II, and, with the advent of the commercial jet age, travel became a foundational element of modern surf culture. Crowds at home inspired surfers to go abroad, with the promise of unridden waves pushing surf tourists to the farthest reaches of the planet. Yet surfers, who often reckoned themselves an inherently rebellious bunch, seemed remarkably oblivious to the political struggles that marked decolonization and the global Cold War. And when they did pay attention, their responses could appear shockingly repellent.
Bio:
Scott Laderman is Professor of History at the University of Minnesota, Duluth, and is currently the Fulbright Visiting Professor of American Studies at HKU. He is the author of Empire in Waves: A Political History of Surfing (University of California Press, 2014) and Tours of Vietnam: War, Travel Guides, and Memory (Duke University Press, 2009).
All are welcome. No registration is required.
For enquiries, please contact Dr. Selina Lai-Henderson, at sels@hku.hk.