Talk:
Your Heart is a Muscle the Size of a Fist – Writing a Novel on Protest and Globalization
Introduction, reading, and discussion with author Sunil Yapa

Date: Nov 14 (Mon)
Time: 4:30pm - 6:00pm
Venue: CPD-2.58, Centennial Campus, HKU.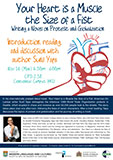 In his internationally praised debut novel, Your Heart is a Muscle the Size of a Fist, American-Sri Lankan writer Sunil Yapa reimagines the infamous 1999 World Trade Organisation protests in Seattle, which erupted in chaos and violence as over 50,000 people took to the streets. The story takes place over one afternoon, following the fates of seven characters. After a brief reading, Yapa discusses the topics of protest and globalization and his journey of writing a novel.
Yapa holds an MFA from Hunter College where he was a Hertog Fellow, and a BA from Penn State where he studied Economic Geography. Yapa has lived around the world, including Greece, Guatemala, Chile, Argentina, China, and India, as well as, London, Montreal, and New York City. Yapa won the 2010 Asian American Short Story Award and his writing has appeared in Guernica, O Magazine, American Short Fiction, Hyphen, Poets&Writers, The Margins, Lithub, and elsewhere. Your Heart is a Muscle the Size of a Fist was named an Amazon Spotlight selection. It has been called "fast-paced and unflinching" by The New Yorker, "a genuine tour-de-force" by The Seattle Times and earned citations for "Most Anticipated Books of the Year" in the Wall Street Journal, Entertainment Weekly, TIME, Huffington Post, The Rumpus and many others.