SMLC Seminar:
Miao in China and Hmong in the US: History and Homelands
Daniel Meissner and Mary Louise Buley-Meissner
Date: 27 Mar 2018 (Tue)
Time: 4:30 pm - 6:00pm
Venue: CPD-3.01, Centennial Campus, HKU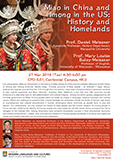 Abstract of Presentation: Our presentation offers an introduction to the history of Miao people in China and the possible relevance of that history to Hmong and Hmong American identity today. Chinese accounts of Miao people – as reflected in legal, literary, political and popular sources from the 17th through the 21st century - have been characterized by a dominant narrative of Han cultural superiority and Miao inferiority. However, Miao rebellions in the 18th and 19th centuries provide evidence of a relentless fight for self-determination and cultural integrity. Among the ethnic groups categorized by the Chinese government as Miao, Hmong people stand out today as unique in language, religious practices and cultural values. Efforts are underway to preserve their cultural heritage, but obstacles include low levels of literacy, high levels of unemployment and cultural diminishment in tourism showcasing ethnic minorities as people "born to sing and dance." Our presentation not only reviews the history of Miao people and the current situation of Hmong people in China, but also reaffirms the identity of Hmong people who have made the US their home. Since arriving in the US as refugees of the Vietnam War, Hmong Americans have achieved remarkable success in their educational, economic and political advancement. Indeed, they have become leaders for Hmong people worldwide in showing how traditional values and modern identities can be productively integrated.
Bios
Daniel Meissner, an Associate Professor in the History Department at Marquette University, specializes in late Qing history and culture and Sino-American diplomatic relations. As a Fulbright scholar in China, he has taught at South China Normal University and Xiamen University. His research examines the role of entrepreneurs, officials and diplomats in the modernization of late imperial China.
Mary Louise Buley-Meissner, Professor of English at the University of Wisconsin–Milwaukee, teaches Hmong American literature and life stories, multicultural American literature, and writing courses ranging from basic composition to graduate research. As a Fulbright scholar in China, she has taught at Beijing Teachers College and Shanghai International Studies University. Her research focuses on cultural continuity and change in the development of contemporary Hmong American identities.