Black in Black and White: African American Independent Filmmaking – History, Politics, and Aesthetics
Screening and panel discussion of Killer of Sheep (1977)

Date: September 13, 2018 (Thursday), 6:30pm-9:30 pm
Venue: Rayson Huang Theatre, HKU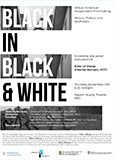 Screening information of Killer of Sheep
1977 | USA | 80'
Director: Charles Burnett
Screenplay: Charles Burnett
Cinematography: Charles Burnett
Cast: Henry G. Sanders, Kaycee Moore, Charles Bracy
In English with English subtitles

Awards: FIPRESCI Prize at the Berlin International Film Festival, 1981. National Film Registry, Library of Congress, 1990. 100 Essential Films, National Society of Film Critics, 2002. Charles Burnett, Honorary Award at the 2017 Governors Awards, Academy of Motion Picture Arts and Sciences

Panel Discussion
Opening Remarks: Derek Collins (Dean, Faculty of Arts, HKU)
Moderator: Gina Marchetti (Comparative Literature, HKU)
Panelists: Sam Ho (Film critic and curator), Keith B. Richburg (Journalism & Media Studies Centre, HKU), Jason Petrulis (Department of History, HKU)
Respondent: Tim Gruenewald (American Studies, HKU)

Part of what Clyde Taylor termed the "L.A. Rebellion" in American cinema, Charles Burnett's Killer of Sheep, along with features by his peers in the UCLA MFA program, including Julie Dash, Billy Woodberry, and Haile Gerima, brought African American lives to the screen in unprecedented ways. Killer of Sheep, in particular, uses black-and-white cinematography to make the quotidian lives of working class Watts residents luminous and worthy of serious contemplation. Compared favorably to the work of Italian neorealist filmmakers such as Roberto Roselllini and Vittorio De Sica, Burnett's Killer of Sheep evinces the same balance between the grittiness of the impoverished lives of its characters and the arresting beauty of the images on screen.
Drawing on their expertise in film, American studies, and media history, a distinguished panel of experts comments on this internationally celebrated film in the context of motion picture history, the Civil Rights Movement, African American filmmaking, and the depiction of gender, race, and working class life in American independent cinema. After the screening and panel discussion, the floor will open for questions from the audience.
Enquires:
lylouis@hku.hk
Registration:
https://goo.gl/forms/D5e6hCRolAJBzd6W2

Supported by:
Department of Comparative Literature
American Studies, Modern Languages and Cultures
Committee on Gender Equality and Diversity (CGED)
Journalism and Media Studies Centre