Talk:
'Era mejor cuando éramos ilegales – it was better when we were illegals'
Indigenous people, the State and 'public interest' indigenous radio stations in Colombia
Dr. Diego M Cortes-Acacio
Ph.D. (Communication) and MA (Latin American Studies)
Visiting Scholar, Department of Communication
University of California, San Diego.
06 May 2019 (Mon) 3:00-4:30pm
Room 4.34, Run Run Shaw Tower, Centennial Campus, HKU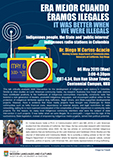 This talk critically analyses state intervention for the development of indigenous radio stations in Colombia. Similar to other studies on Latin American community media, my research illustrates how these radio stations have contributed positively to the livelihoods of indigenous communities. Importantly, community radio has fostered a new generation of leaders, promoted indigenous languages, and encouraged political action for the protection of indigenous territories against drug traffickers, illegal miners, and State-supported developmental projects. However, there is evidence that these media projects have brought new challenges for these communities such as hefty financial costs, dependency on external donors, and legal restrictions for radio networking, calling for a more nuanced consideration of the complexities of State intervention in community radio projects. For this reason, for many local indigenous community members who were the subject of state intervention in such projects, 'it was better when we were illegals.' As a conclusion, I argue that the logic of the contradictory State legislation, instead of empowering indigenous media projects, tamed their political potential
Dr. Cortes-Acacio holds a Ph.D. in Communication (2017) and MA (2010) in Latin American studies from the University of California, San Diego. He has conducted research with Colombian indigenous communities since 2009. He has two articles on community-oriented indigenous radio stations that are forthcoming on the Latin American and Caribbean Ethnic Studies and the Journal of Alternative and Community Media. He is currently a visiting scholar at the UC San Diego's Department of Communication where he teaches classes on popular culture, cultural industries, politics of sports, Latin American film, and media representations of drug trafficking.