Seminar:
Ventriloquism, or How to Make Gay Art in the American 1950s
Dr. Jonathan D. Katz
4:30 to 6 pm
CPD-2.16, Run Run Shaw Tower, Centennial Campus, HKU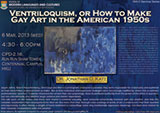 Jasper Johns, Robert Rauschenberg, John Cage and Merce Cunningham embraced a paradox: they were responsible for a resolutely anti-authorial art that nonetheless produced them as maker. But as their individual anti-expressive strategies were increasingly codified by others into a common postmodernist "position," it merely rehearsed the version that, not surprisingly, drew its profound authority from the power of the artists in question, but not coincidentally also satisfied larger political and market imperatives.
This talk turns on the notion that these men shared a common sexuality, were variously romantically involved with one another, and that this romantic involvement had consequences for their art. But more than that, through close readings of works of art, it underscores that their vaunted anti-expressivity is often merely a sleight of hand mobilized to camouflage some very traditionally expressive meanings—not least ones related to their romantic involvements with one another.
Short Bio:
Jonathan D. Katz directs the doctoral program in Visual Studies at the University at Buffalo and president and chief curator of the new Leslie Lohman Museum of Gay and Lesbian Art in New York City. He was co-curator of the 2010 Smithsonian National Portrait Gallery show Hide/Seek: Difference and Desire in American Portraiture, the first queer exhibition ever mounted at a major US museum, receiving the 2011 Best National Museum Exhibit award from the U.S section of the International Association of Art Critics. Previously, Katz was a Terra Foundation Senior Fellow at London's Courtauld Institute of Art. As an associate professor at Yale University (2002-06), he was founding director of its Lesbian and Gay Studies Program. He founded and chaired both the Harvey Milk Institute, and the Queer Caucus for Art of the College Art Association. He also co-founded Queer Nation, San Francisco, and the Gay and Lesbian Town Meeting, the organization that successfully lobbied for queer anti-discrimination statutes in the city of Chicago. He has written extensively about American art and culture of the post war period.