Book Launch and New Talk
From Mark Twain to Langston Hughes in China
Date: 9th Sep, 2015
Venue: Room 4.36, Run Run Shaw Tower, Centennial Campus, HKU
Time: 4:30-6:00pm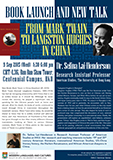 Abstracts:
New Book: Mark Twain in China (Stanford UP, 2015)
Mark Twain (Samuel Langhorne Clemens, 1835–1910) has had an intriguing relationship with China that is not as widely known as it should be. Although he never visited the country, he played a significant role in speaking for the Chinese people both at home and abroad. After his death, his body of works continued to travel through China in translation throughout the twentieth century. Were Twain alive today, he would be elated to know that he is widely studied and admired there, and that Adventures of Huckleberry Finn alone has gone through no less than ninety different Chinese translations. Looking at Twain in various Chinese contexts, Mark Twain in China points to the repercussions of Twain in a global theater.
Presentation: "Langston Hughes in Shanghai"
Langston Hughes (1902-1967) was the first American writer from the Harlem Renaissance to ever set foot on Chinese soil. Having visited Mexico, Europe, and West Africa before he was yet to turn twenty, Hughes eventually made his way to the Soviet Union, China, and Japan twelve years later in 1933. His sojourn in Shanghai in the summer of 1933 and in particular, his encounters with Lu Xun, Madame Sun Yat-sen, and other Chinese writers on this trip would leave a lasting impact on how he perceived himself as an American and a writer of color abroad. They also shaped his body of work in profound ways that complicated the discussions of race, national identity, and global citizenship in a transnational arena. Finally, the presentation will explore an unpublished—and hitherto, unknown poem, "China," that Hughes wrote in 1963 in Paris, and how his perception and imagination of China at this point of his life—five years prior to his passing, reflected a racial consciousness that defies national, geographical, and political boundaries of the color line.
Bio:
Dr. Selina Lai-Henderson is Research Assistant Professor of American Studies at HKU. Her research and teaching interests include: 19th and 20th century American literature, transnational American Studies, US-China literary history, the Harlem Renaissance, and African-American diaspora in China.