Rising Above - African American History and Culture Lecture Series:
Time: 18:30 – 19:30
Venue: Fung Ping Shan Building, University Museum and Art Gallery, HKU.
January 26
"No Man Can Be Prevented From Visiting His Wife": Henry Butler and Enslaved Manliness in Family and Intimacy
Professor Thomas Foster, DePaul University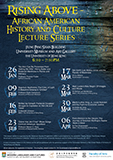 February 9
Quantum Aesthetics: The Color of Light in Beauford Delaney's "Untitled"
Professor Russ Castronovo, University of Wisconsin-Madison

February 16
Written by Himself: Frederick Douglass' Struggle to Capitalize on His Life and Times
Dr Kendall Johnson, School of Modern Languages and Cultures, HKU

February 23
"Damn that Jim Crow": Blues Songs Confront American Apartheid
Prof Steven C. Tracy, University of Massachusetts Amherst

March 17
Set Adrift: Lois Mailou Jones and the Fluidity of Blackness
Dr Ivy Wilson, Northwestern University

March 23
Alain Locke's New Negro: Of Images and Words
Dr Selina Lai-Henderson, School of Modern Languages and Cultures, HKU

March 30
Martin Luther King, Jr., Local Activism and the Fight for Economic Justice
Dr Greta de Jong, University of Nevada, Reno

April 6
From Oblivion to the Oscars: The Journey of Solomon Northup's Twelve Years a Slave
Dr Tim Gruenewald, School of Modern Languages and Cultures, HKU

This lecture series is organized by the American Studies Programme (SMLC) and inspired by the exhibition "Rising Above: The Kinsey African American Art and History Collection" which is on show at the University Museum and Art Gallery until February 26, 2017.

A book of essays based on this lecture series will be published with the generous support of the Consulate General of the United States of America in Hong Kong and Macau.