Rising Above - African American History and Culture Lecture Series:
"No Man Can Be Prevented From Visiting His Wife": Henry Butler and Enslaved Manliness in Family and Intimacy

Prof. Thomas A. Foster
Date: January 26 (Thu), 2017
Time: 6:30 pm
Location: Fung Ping Shan Building, University Museum and Art Gallery, HKU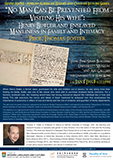 When Henry Butler, a former slave, purchased his wife and children out of slavery, he was doing more than freeing his family. Butler was one of few slaves who were able to purchase enslaved family members. For a formerly enslaved man, the meaning would have had strong resonance beyond the individual ties of love and family. This talk examines the norms and ideals of black manhood for enslaved men that emphasized the importance of autonomy in affairs of love and family and the role of protector and guardian of family dependents.

This talk is part of a series of lectures organized by the American Studies Programme (SMLC) and inspired by the exhibition "Rising Above: The Kinsey African American Art and History Collection" which is on show at the University Museum and Art Gallery until February 26, 2017. The exhibition is co-organized by the Faculty of Arts and the University Museum and Art Gallery of the University of Hong Kong in collaboration with KBK Enterprises, Inc. and the Bernard and Shirley Kinsey Foundation for Arts & Education. Goldman Sachs is a Silver Sponsor and American Airlines is the exhibition's Official Airline. Supporting organizations include the Consulate General of the United States of America in Hong Kong and Macau, the American Chamber of Commerce in Hong Kong, the Hong Kong Tourism Board, the Lan Kwai Fong Group, and the Mandarin Oriental, Hong Kong. With special thanks to Caripelago Trading Limited.
Thomas A. Foster is Professor of History at DePaul University in Chicago, USA. His teaching and research focuses on sexuality and gender in early America. He is the author of Sex and the Founding Fathers: The American Quest for a Relatable Past (Temple 2014) and Sex and the Eighteenth-Century Man: Massachusetts and the History of Sexuality in America (Beacon 2006), and editor of Long Before Stonewall: Histories of Same-Sex Sexuality in Early America (NYU 2007), New Men: Manliness in Early America (NYU 2011), Documenting Intimate Matters: Primary Sources for a History of Sexuality in America (Chicago 2012), and Women in Early America (NYU Feb 2015). He is currently working on a book about sexual exploitation and abuse of enslaved men.